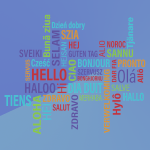 "We help you communicate with all your neighbors across borders"
Shan Singapore – a proud ATA member offers Translation services to clients from all over the world. Translation is all about communicating the meaning from one language (the source) to another language (the target). The purpose of translation is to convey the original tone and intent of a message, taking into account cultural and regional differences between source and target languages.
The importance of Translation started with expansion of work, when people started exploring markets globally. Shan Singapore helps you in expanding your business, to make a name globally and to communicate with the outside world by offering translation services. We offer Translation services in multiple specializations (general, legal, technical and medical domains). We believe in translating while maintaining the cultural tone of the language, so we lay emphasis on hiring professional native translators. Currently we offer Translation in more than 2200 language pairs.
We also take into consideration quality enhancement measures to ensure that the document is completely error-free. We cater to clients from all over the world belonging to various sectors. We are known to make available our translation services which are time saving and cost effective at the same time.